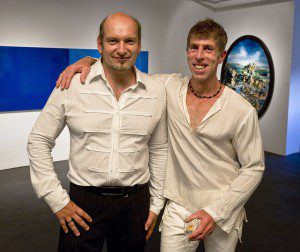 Rhéal Olivier Lanthier
&
François St-Jacques
Co-directors
Rhéal Olivier Lanthier and François St-Jacques are a duo of independent curators as well as co-directors and co-founders of Art Mûr gallery and Éditions Art Mûr Publications. Lanthier served as president of AGAC (the Association of Contemporary Art Galleries) for five years between 2008 and 2013. Through their function as directors of Art Mûr, Lanthier and St-Jacques have carried numerous major exhibition projects that were warmly applauded by critics, including Art Fiction (1996), Memento Mori (2011 with 18 artists from Canada, the United States, the United Kingdom, France and Germany), Mens-Moi / Please Lie to Me (2011 with 20 artists from Canada, the United States, France, Mexico and China) and Mapping the territory / A Stake in the Ground – Demonstration of Contemporary Aboriginal Art (2012 with 25 native artists from Canada and the United States). More recently, they independently curated Qui suis-je: L'identité autochtone au 21ième siècle at the Maison des Jésuites in Québec City (2013).

Anaïs Castro
Assistant
Anaïs Castro is an independent curator, an art critic and Art Mûr's Assistant Director. She obtained her Bachelor of Fine Arts in Art History from Concordia University and holds a Masters in Modern and Contemporary Art: History, Curating, and Criticism from the University of Edinburgh in Scotland. She has worked on various curatorial projects including Staging the Scene: Photographic Staging, Porcelain: Breaking Tradition presented at Art Mûr and Division Gallery in Toronto, Monochrome3 and her most recent project Moving Still | Still Moving is scheduled for 2015. Castro published in various magazine including Line Magazine, esse arts + opinions and Espace Sculpture.
Michael Patten
Assistant
Mike Patten is a multidisciplinary artist and independent curator living and working in Montreal. Born in 1977 in Regina, Saskatchewan, Canada, of Cree and European decent, he is a member of the Sakimay First Nation. He holds a BFA in painting and a BFA in drawing with a minor in art history from the University of Regina. His work was presented in solo and group exhibitions nationally and internationally at various institutions including: LOOP international video art Festival (Barcelona, Spain, 2007), Platform centre for photographic + digital arts (Winnipeg, MB, 2009) and Pierre-François Ouellette art contemporain (Montréal, QC, 2006). His most recent curatorial project titled Storytelling was presented at both Art Mûr and the Art Gallery of StewartHall as part of the second edition of the Contemporary Native Art Biennial – the only biennial exclusively dedicated to contemporary native art. Patten invited twenty-five artists from all over North America to investigate the importance of storytelling in native cultures.
Sonia Stoeva
Assistant
Originally from Bulgaria, Sonia Stoeva now lives and works in Montreal. She studied at the National Academy of Art in Sofia. In 2009, after many collaborations in Montreal and in Europe, she founded the collective Ivanostoeva with Dimo Ivanov. It has been awarded many grants from Conseil des arts et des lettres du Quebec and the city of Montreal. Ivanostoeva has presented work in Chicoutimi, Gatineau, Sutton and Montreal, during events like Art Souterrain (2013) and the Biennale Internationale d'art numérique (BIAN 2014).